Estimated Reading Time: 3 minutes.
Most businesses require some upfront capital to get you started so funding can be one of the biggest barriers to entry for many businesses. I've done some research into business grants you can avail of in 2017 and broken it down into an easy to understand guide. Whether you're just starting your business or growing a current one these grants may be able to help you out.
---
Enterprise Ireland: Competitive Start Fund

Enterprise Ireland has a number of business grants available throughout
the year that you can avail of, each with different requirements. There are grants for female entrepreneurs, international entrepreneurs, different regions, different sectors anything which you can think of. The next available round of funding is one which any sector can avail of starting on January 25th and closing on February 8th. The maximum amount of funding which you can receive from this round is €50,000 for 10% equity in your business. This funding is available to start- ups at very early stages right up to further developed businesses. So whether you need to develop a prototype or plan for overseas expansion this one is for you. Full details of all upcoming Enterprise Ireland grants found here.
Seed Capital Scheme
This one is for businesses that are already up and running. If you're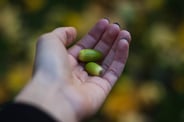 currently working full time for your own business you can claim back your income tax from the last 6 years to pump directly into your business in the form of equity shares. This means that the money has to be used specifically to purchase shares in the company. You can claim back your tax on up to €100,000 of earnings from the last six years.
For example if you earned €30,000 a year between 2010-2016 you paid €2,700 tax per year. You can claim back tax on up to €100,000 of your earnings from this 6 year period. So you can opt to reduce the tax on your earnings from 2010-2013 (that's €90,000 of earnings) to get €8,100 of tax returned to you that you can invest back into your company. Full terms and conditions found here.
New Frontiers Entrepreneur Development Programme
This is slightly different as the program provides you, the individual with funding rather than the business. You can earn up to €15,000 tax free in order to give you financial security while working on getting your business off the ground. Not only will this program provide you with funding but also with a work space, tutelage from experienced entrepreneurs, training and networking opportunities to name but a few of the great benefits. You can apply to work in the program in a number of third level institutions around the country. Full details found here.
---
Have you applied for any funding grants? Let us know about your experience in the comments below.
---