One of the basic concepts of inbound marketing is offering a piece of content in exchange for contact information, usually an email address. This usually happens when someone reads a blog post, sees an offer for a free guide or similar, clicks it and is brought to a landing page which asks them for their email address in exchange for the content.
This works great but people are becoming more and more protective over their email address. I personally only ever sign up for content with my email address which I see as really valuable. Otherwise you end up with an inbox full of marketing communications that you don't want.
The idea of bots and what they'll be able to do in the future is an incredibly interesting one. I decided to see what I could do using a bot on my personal blog. The first thing that comes to mind is providing visitors with information if they ask certain questions. This is a really cool feature but I've seen it done so I decided to explore if there was a way that I could offer content, capture a lead and provide the content automatically through a bot.
The idea is that the novelty of providing your email address in this manor will increase the likelihood to do so. Here's a Gif that shows what I came up with: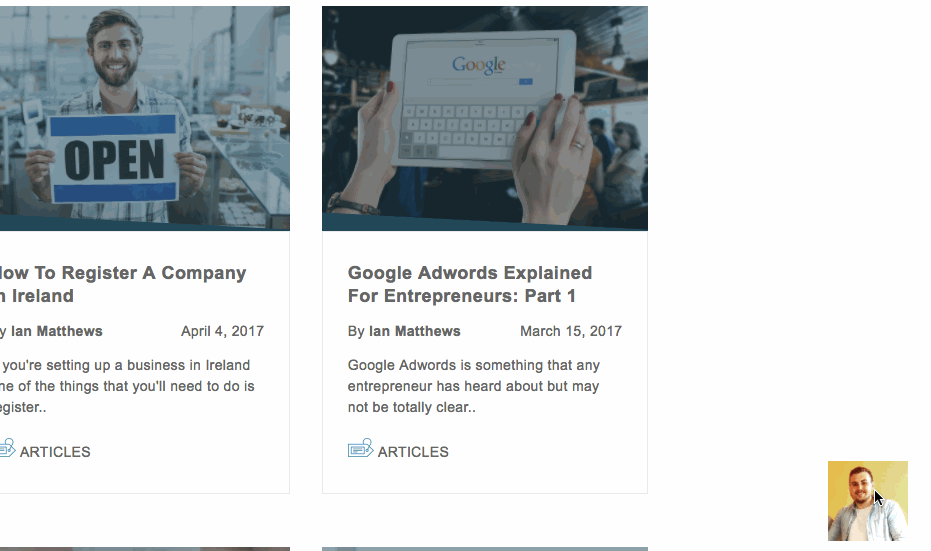 The content offering bot is in the bottom right hand corner of my blog homepage. It initiates a conversation with the visitor when clicked and asks if they're interested in my content offering. When the visitor gives them their email address it triggers an email with the requested content. You can check it out here.

But what if someone says they're not interested? There are countless responses that someone could give to the bot. It can understand yes, yep, sure etc and similar as positive responses and similarily it understands that no, nope, nah etc are negative responses. If someone responds in this way it replies with a link to another article in an attempt to get some value out of the interaction regardless: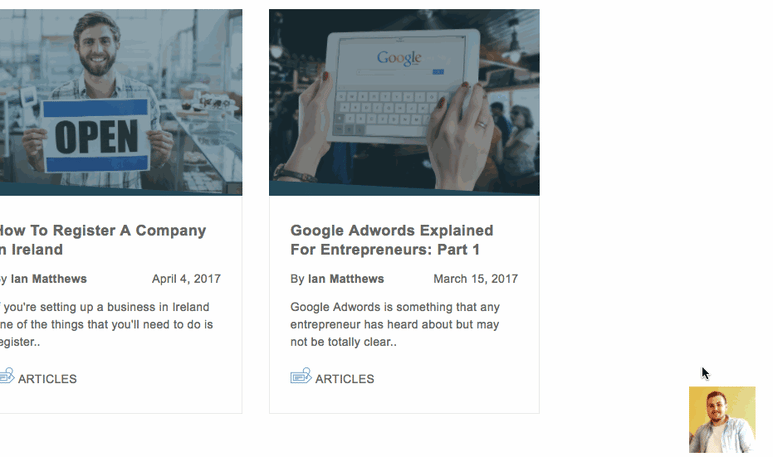 As the title of this post suggests it's is a very simple bot. Outside of yes and no variations it won't understand what the visitor is saying and will reply with "Sorry I didn't quite catch that?" However there is the potential to add as many responses and as many situations as you might like.
How To Build Your Own
To build the bot I used a program called motion.ai. This software allows you to build web based, SMS, Facebook messenger, slack & email bots. I decided to try out the web based version to get me started. Each stage of the conversation is a module. The opening message that you receive is from a sentiment module which allows you to ask a yes or no answered question. The software does all the hard work - all you need to do is write the statement and select what happens if someone says yes or if someone says no. You end up with workflow of sorts that looks something like this: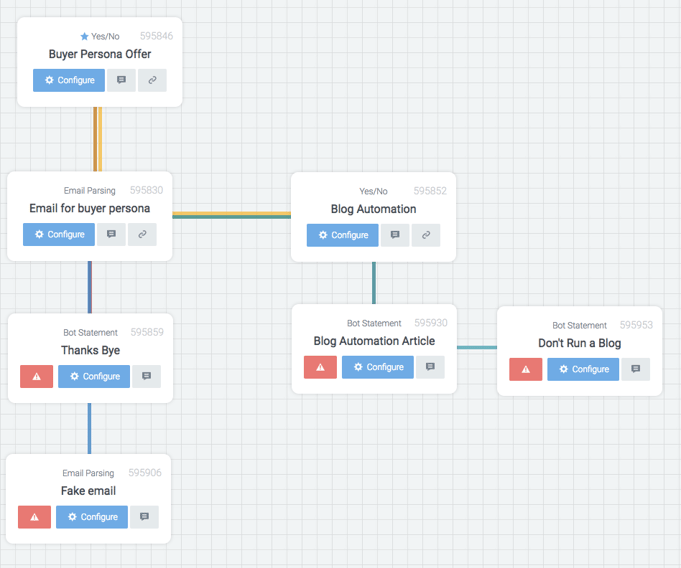 The second module is an email collection module that pulls the respondents email address from whatever they say next or if they don't want to give their email it will bring them down a different path. Depending on the visitor's answer to the questions there are different paths they can be brought down.

Other modules that are available include Name collectors, Address collectors, Multiple choice answers, automated emails to myself and more. There are endless possibilities to creating a bot with motion.ai and they even have a few templated bots for things like customer support, booking calendar meetings and more. My next port of call with be testing out the Facebook messenger bot so make sure to subscribe to email updates above if you want to hear how it goes.