Every Sunday on RTÉ one we see hopeful entrepreneurs pitch their businesses to the dragons in the hope of receiving investment and mentorship in return for equity in their business. Gavin Duffy, Barry O'Sullivan, Alison Cowzer, Eleanor McEvoy and the newest dragon Chanelle McCoy are the Irish Dragons who each boast an impressive book of business across a number of different industries. One hopeful entrepreneur who entered the den was Niall Moloney, founder of Pow Cow, a high protein frozen yogurt. I caught up with Niall to hear about Pow Cow, what his experience of entering the Dragons Den was like and how exactly does someone in Ireland go about starting a food business.
What made you want to start your own business?
I've always had a desire to work for myself. I've had some great jobs but always seemed to get bored after a while. I was always on the lookout for something new. Even in my previous jobs I was always the one wanting to trial new ways of doing things or introducing something new.
Tell me a little bit about the history of Pow Cow. Where does someone with an idea for a protein rich frozen yogurt even start?
I'm a registered dietitian and sports nutritionist by profession. Having worked with a number of professional rugby teams including Connacht Rugby Academy, the Olympic Games and GAA teams I came across a lot of the athletes who were struggling to meet their correct nutritional requirements. At the same time I was also seeing a lot of weight management clients who were struggling to find healthy dessert options. As a result I decided to create a healthy frozen yogurt.
Beginning the process was the easy part, I bought a small ice cream maker and started playing around with recipes. It helped that I had a good nutritional knowledge of the ingredients I was adding but it still took nearly 200 failed recipes before I created something which tasted good and matched the nutritional profile I was aiming.
Next I had to figure out if anyone would buy it and if I could make it at a bigger scale. It was quite tough to find some scale ice cream producers in Ireland to help me out but the LEO (Local Enterprise Office) pointed me in the right direction and a part time farmer/part ice cream producer gave me his factory to use.
From here everything snowballed. We ended up getting a listing in 25 Supervalu stores through the Food Academy. Once word got out we had loads of people looking for the product. Our next challenge was that our factory and the equipment we had just weren't large enough to allow us to meet demand.
To find a larger manufacturer was tough. We struggled to find someone who would take a chance with us because yes there's a lot of small ice cream producers in Ireland but there were only a few manufacturers who would be able to help us scale and grow the way we wanted. Because our product is so innovative it was something that they hadn't dealt with before. It would have required a bit of work in terms of their processes. They weren't willing to take the chance because they didn't know for sure that it was going to succeed.
This was a bit of a challenge for us but we did find a manufacturer in the end that were approved to the top standard of food manufacturing. It took us a while but we got there. This allowed us to concentrate on marketing and sales and leave the manufacturing to the experts.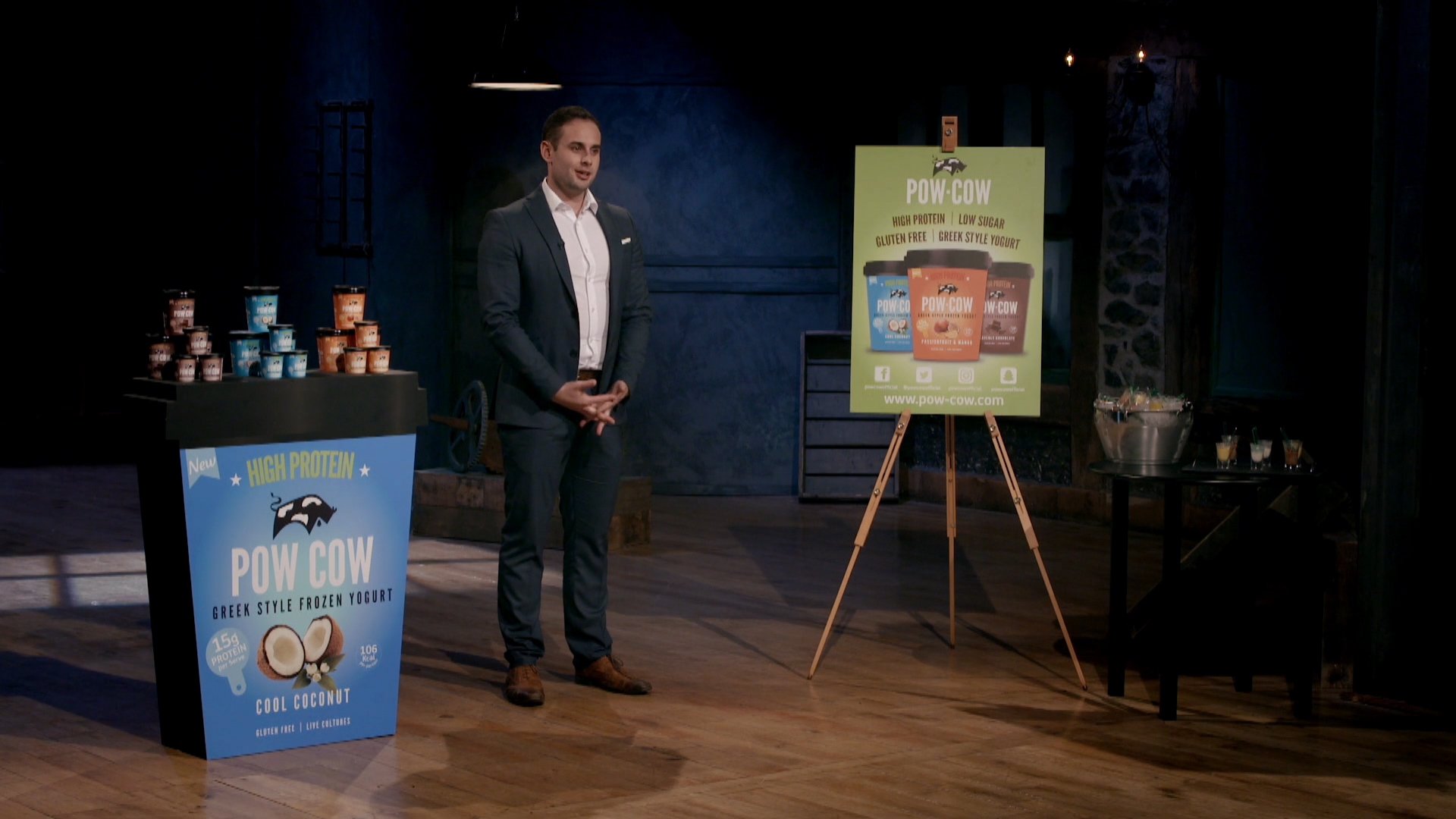 So part of growing that marketing and sales function was going on Dragons Den. How did you end up deciding that was something you wanted to do?
It was a moment of madness! Around Christmas I put in the application then they called me in for an interview and liked the idea. I thought it'd be a good opportunity to get in front of the Dragons and to get our name out there. The application process wasn't too bad, I filled out a form online and then was interviewed by the producers. From there you had to submit a business plan and they get their financial consultants to take a look at it.
The really interesting thing about Dragon's Den is that the Dragons have actually never heard of you before you go into them. They don't know who's going to be in front of them until you enter the Den. It's all very secretive.
On the show you're on screen for 15 minutes or so I imagine the reality is much longer than that. How did you go about preparing for your pitch?
It took an awful lot of preparation. I spent ages watching back Dragons Den episodes trying to prepare for their questions. Having your elevator pitch down is essential. After that it's making sure you know your financials inside and out. You also need to put yourself in the investors' shoes and think about what would they be looking for in return for their money.
That's just the preparation. I was actually in there for over an hour and a half so there's a lot of conversation that goes on other than what you just see on television. They grill you for a while and then the best or most entertaining bits go into the show. To be fair to the Dragons they keep it quite conversational but there are times when they put the heat on in terms of firing questions at you. Overall it was a great experience for me.
You went into the Den looking for an investment of €50,000 in exchange for 15% of your business. One thing that always strikes me is how difficult it must be for entrepreneurs to give up so much of their business that they've work on to someone else. Was this something that took a lot of consideration before even going on the show?
I'm very much a believer that a percentage of a pie that works is better than 100% of a pie that doesn't work. Yes it's my business that I've started from the ground up but you can't really get on in life without getting help. It's very difficult to do these things alone, especially in the food sector. You really need somebody who has the money to put behind you and also contacts in the food industry are so important. A lot of it is about who knows who.
Yes you're giving away equity in your business but you're also bringing someone on-board that is really interested in your business and who can really help you be successful. The funding goes a long way in building your brand awareness, marketing and sales, you can do all of that yourself but if you don't have the mentoring and the contacts in the industry it's going to be very difficult for you to grow it.
The distribution and placement of your product was something that the Dragons asked about a lot. Pow Cow is in 25 Supervalu stores, how does someone approach Supervalu and say "I want you to stock my product?"
Supervalu runs what's called 'The Food Academy' which is basically a start your own food business course. It's run over 13 weeks and you pitch to Supervalu at the end of it to go on a trial with them. That was really helpful for getting us on shelves but in terms of expanding the product and getting it to the next level, the key was actually getting a national distributor who was able to bring us there.
A large distributor can use their contacts and capabilities to get us as wide as possible across the country. If you're setting up a food business and you're relying on a man in a van type set up to bring your product to the stores you're going to find it very difficult to scale that across the country. We made the decision to go with a much larger distributor but obviously there's an increased cost with doing that. At the end of the day you need to invest in distribution to get your product out there.
Unfortunately you didn't get any of the Dragons to fund Pow Cow. If you could go back again is there anything that you would have done to get the Dragons over the line?
That's a tough one. Some of the feedback that we got from the Dragons was that frozen foods was a very difficult category to break into, but that's just the start of our brand. We're hoping to expand out to other areas so maybe I would have talked about the overall vision of the company and where we're going with it. I believe that this can be a very mass marketable product and I may have talked to them a bit more about how the market is going. No offence to the Dragons but they aren't the target market for this product. It would have been good to do some more education on the life of the people who are going to buy the product at the start of the pitch so they could understand exactly why they would buy it.
Pow Cow will be live in stores from the second week of May across Ireland with their new packaging. You can also check them out online here.